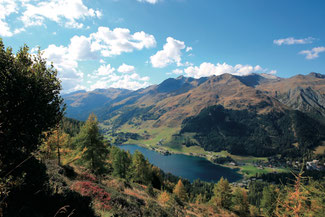 Online registration for the 2018 CHALLENGE DAVOS FESTIVAL on September 15th/16th is now open! Get your early bird ticket and save 30% on already competitive prices!
Race the spectacular course in breathtaking Alpine mountain scenery in Davos and enjoy completely traffic-free roads up and down Flüela Pass. Choose from middle or short distance triathlon races on Saturday, September 15th or join the time trial event of "Flüela Challenge" either by bike, rollerski, inline-skates or by running on Sunday, September 16th.   
After this year's unusually cold weather conditions, new starting times at noon will minimize risks of program changes. Join us for this Alpine challenge and enjoy the sports you love in a safe and sound environment.
Let us take your breath away in Davos, Switzerland!